General
Are we learning anything new from Mueller?
http://www.bbc.co.uk/news/world-us-canada-49101886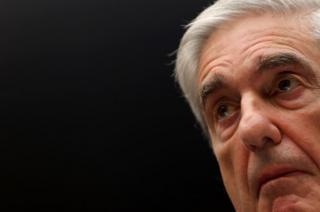 During his public appearance in May announcing the end of his special counsel inquiry, Robert Mueller said he didn't want or need to testify before Congress on the results of his investigation.
On Wednesday, it was clear why he felt that way.
The Justice Department publicly issued guidelines on Tuesday that set boundaries on Mr Mueller's testimony, instructing him to stay within the confines of the written report.
Mr Mueller said he would abide by this – echoing similar comments he made two months ago.
This virtually ensured that the former special counsel's testimony would not cover much new ground. Instead, Democrats had to pick and choose what episodes and findings they wanted to highlight, in the hopes that Mr Mueller would offer affirmation or further corroboration. He frequently did, but usually in the least dramatic fashion imaginable.
His answer to a question about the president asking White House staff to falsify documents relevant to the investigation, for instance, was simply: "I would say that's generally a summary".
'I'll refer you to the report'
The Justice Department ground rules all but guaranteed that Mr Mueller's testimony would be awkward and halting, as he repeatedly paused to refer to specific pages of the report.
Mr Mueller's responses were peppered with lines like: "I can't answer that question"; "I can't get into that"; "I don't recall"; "that's out of my purview"; and "I'll refer you to the report". That he frequently made them while leaning away from his microphone to look at his papers made things only more awkward to watch.