Life
Sweet Potato Egg Boats with Avocado Crema and Bacon
https://www.thehealthymaven.com/sweet-potato-egg-boats-with-avocado-crema-and-bacon/
The original Sweet Potato Egg Boats with Avocado Crema and Bacon. A simple and healthy baked breakfast or lunch packed full of flavor and nutrition. It will be love at first bite.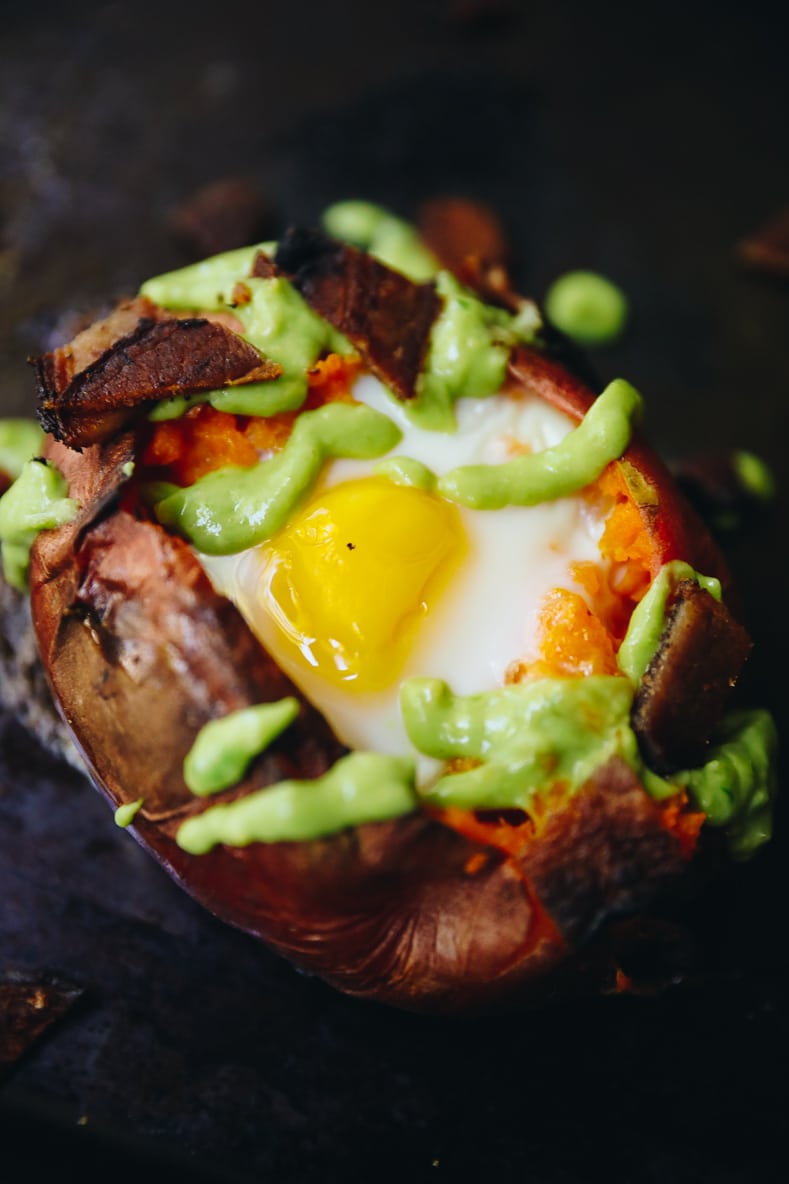 This is an oldie but a goodie! Before we get any further, I have to come clean… This recipe was 100% Lee's idea! We used to Skype pretty regularly back in the day and I remember asking what I should make with these four ingredients that were always stocked in my pantry: eggs, bacon, avocado and sweet potatoes. It took her no time at all to come up with the genius idea to make egg boats. So thank you, Lee, for your genius idea. I hope you all love these as much as I do!
Here's What You Need:
Sweet potatoes
Eggs
Bacon
Avocado
Lime
Scallion
Garlic clove
Cumin
Sea salt
There are three main parts to this recipe: baking the eggs and sweet potatoes, cooking the bacon and making the avocado crema.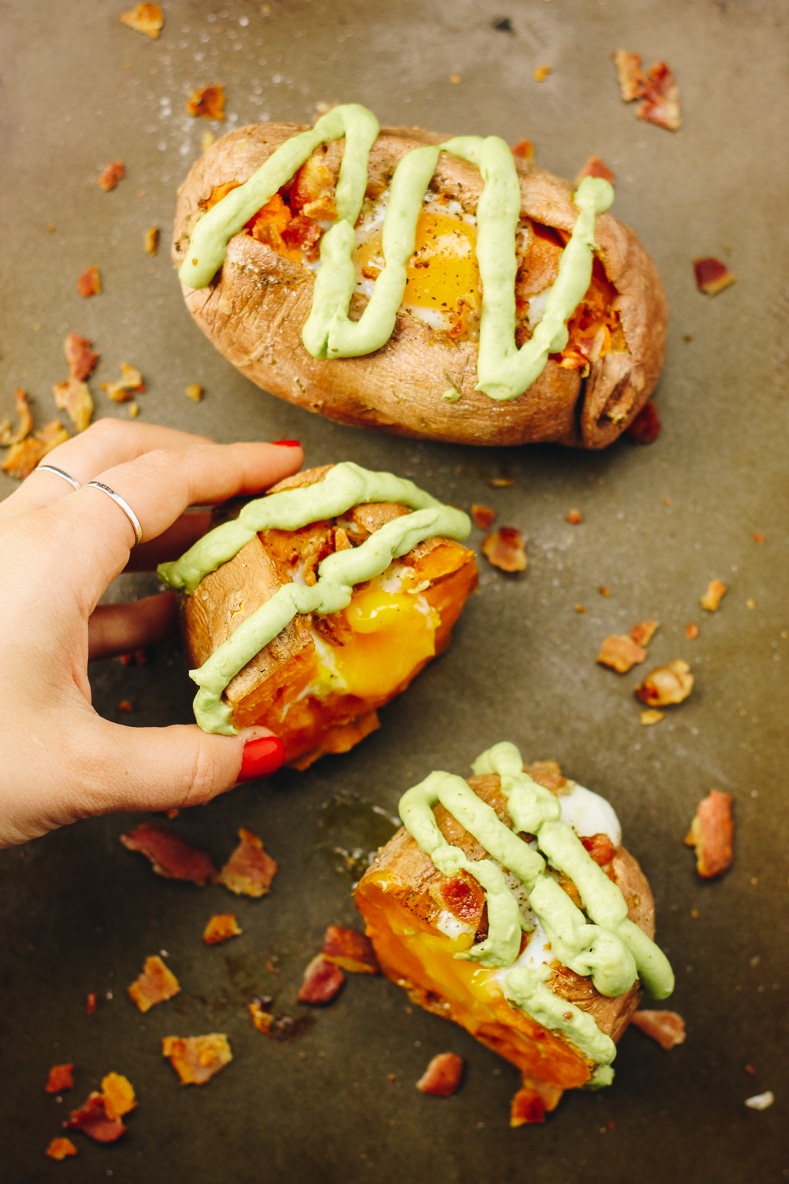 How to Make Sweet Potato Egg Boats
STEP 1: Preheat the oven to 400ºF. Poke your sweet potatoes with a fork a few times and wrap in tinfoil. Bake for 50-60 minutes. 
STEP 2: Remove the sweet potatoes from the oven and cut in half lengthwise. Use a fork to gently fluff the "meat" of the sweet potatoes. 
STEP 3: Carefully crack one egg into each half and place on a baking sheet. Bake for 12 minutes for over-easy eggs and slightly longer for a more well done egg. Make sure your whites are fully cooked and then cook the yoke to your liking!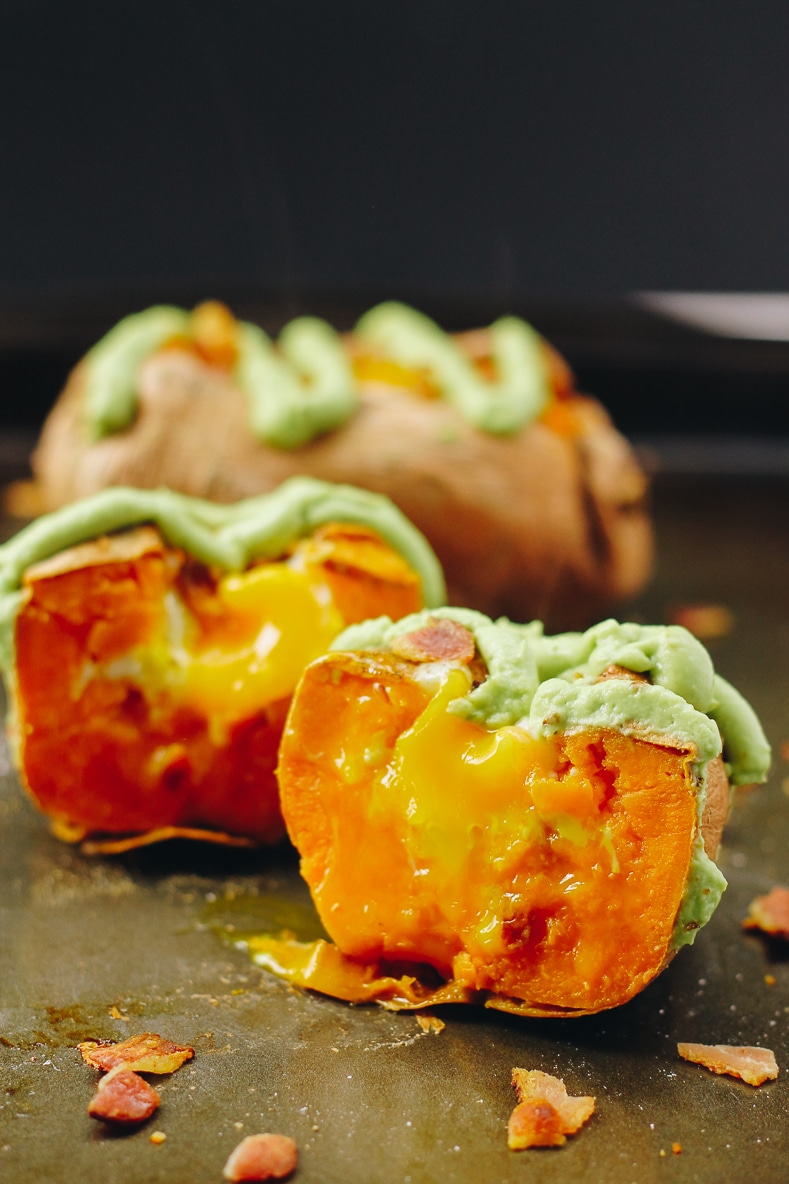 How to Cook Bacon
There are three different ways I typically cook bacon. Let's talk through your options!
Stove-top: Place bacon in a large skillet and cook on medium-high heat for about three minutes. Flip the bacon slices and continue cooking for an additional three minutes or until your desired level of crispiness. 
Oven: Preheat your oven to 400ºF. Line a baking sheet with foil and line the bacon across the pan. If possible, try not to overlap the bacon to make sure it crisps evenly. Bake for 15 minutes and then check to see how crispy it is. Keep a close eye on it after 15 minutes because it cooks quickly!
Microwave: Place three layers of paper towels in a microwave safe dish. Place the bacon on top without overlapping and cover with another two layers of paper towels. Microwave on high for four minutes. Check your bacon to see if you want it crispier and microwave for an additional two minutes if needed. 
A Step-By-Step Blueprint For Making Money Online, That Is 100% Dummy Proof!
GET EASY FREE TRAFFIC + AFFILIATE OFFER = COMMI$$IONS
Get The Simple Traffic Blueprint Now!
How to Make Avocado Crema
I truly love every ingredient in this dish but the avocado cream miiiight steal the show! Combine the avocado, lime juice, scallion, garlic, cumin and sea salt in a blender or food processor and process until well-combined. The end result should be a creamy consistency!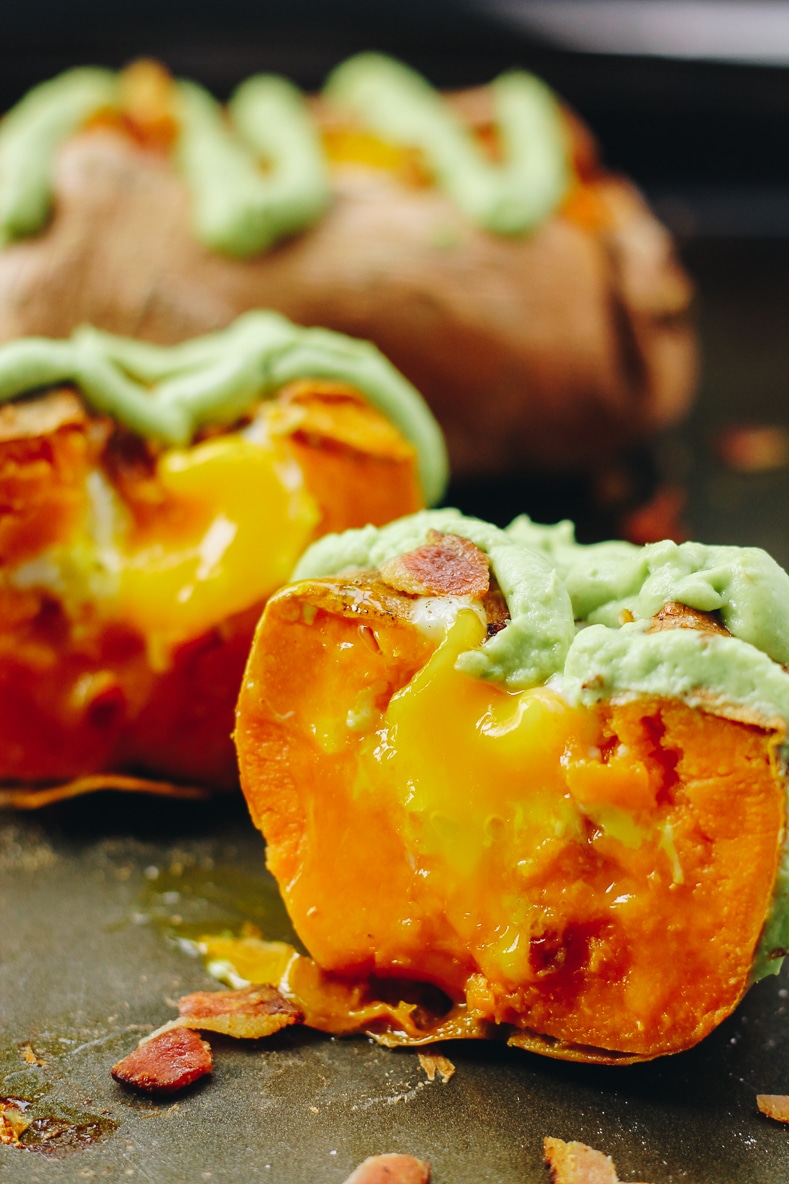 Assemble Your Sweet Potato Boats
If you want to cook your bacon in the oven, I recommend doing that first and setting aside while you cook your sweet potato boats. If you are using one of the other methods for the bacon, you can get your sweet potatoes in the oven and then focus on the rest of the dish!
When your potatoes and eggs are done cooking, drizzle the avocado crema on top and sprinkle with bacon bits. Enjoy immediately!
Like this post? Here are more recipes you might enjoy:
Sweet Potato Egg Boats with Avocado Crema and Bacon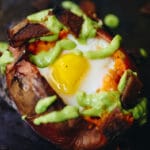 Prep Time:

10 minutes

Cook Time:

70 minutes

Total Time:

1 hour 10 minutes

Yield:

2

servings

1

x
Category:

Breakfast

Method:

Bake

Diet:

Gluten Free

Scale

Ingredients
2

large sweet potatoes, washed, scrubbed and dried

2

large organic eggs

4

pieces of organic bacon

1/2

avocado
juice, 1 lime

1

scallion, chopped (whites only)

1

garlic clove, minced

1/8 tsp

cumin

1/8 tsp

sea salt

1/4 cup

water
Preheat oven to 400 degrees F.
Place sweet potatoes in tin foil and bake in oven for 50-60 minutes.*
Remove from oven and let sit for a few minutes
Place sweet potatoes on a cutting board and remove tinfoil.
Gently cut sweet potatoes lengthwise along the top and about halfway down. Do NOT cut through bottom.
Using a fork, gently fluff inside of sweet potatoes.
Line your same baking sheet with parchment or a silicone mat.
Carefully crack 1 egg into each sweet potato and place on a baking sheet.
Bake for 12 minutes for over-easy or slightly longer for more well done.
Place 4 strips of bacon on a large skillet and cook on medium-high for 3 minutes on each side or until done to level of crispiness desired.
Place on a paper towel lined plate to soak up grease.
Cut into small bits.
Combine avocado, lime juice, scallion, garlic, cumin, sea salt and water in a blender or food processor and process until well-combined and a "cream" consistency has been reached.
Drizzle over sweet potatoes and sprinkle with bacon bits.
Serve immediately.
*If you're short on time you can pierce the sweet potatoes with a fork several times and cook in the microwave for 4-6 minutes. Then continue process by baking eggs inside in the oven.
JOIN THE THM NEWSLETTER
Join 20,000+ members of the THM Community to get access to exclusive recipes, healthy lifestyle tips and behind-the-scenes news from our team!
Success! Now check your email to confirm your subscription.
Free Gift With Our Newsletter
We hate SPAM and promise to keep your email address safe