Life
Chocolate Gingerbread Muffins
https://www.thehealthymaven.com/chocolate-gingerbread-muffins/
Ring in the holidays with these healthy chocolate gingerbread muffins that are moist, packed-full of flavor and healthy ingredients! They're full of rich chocolately flavors plus a spicy gingerbread kick.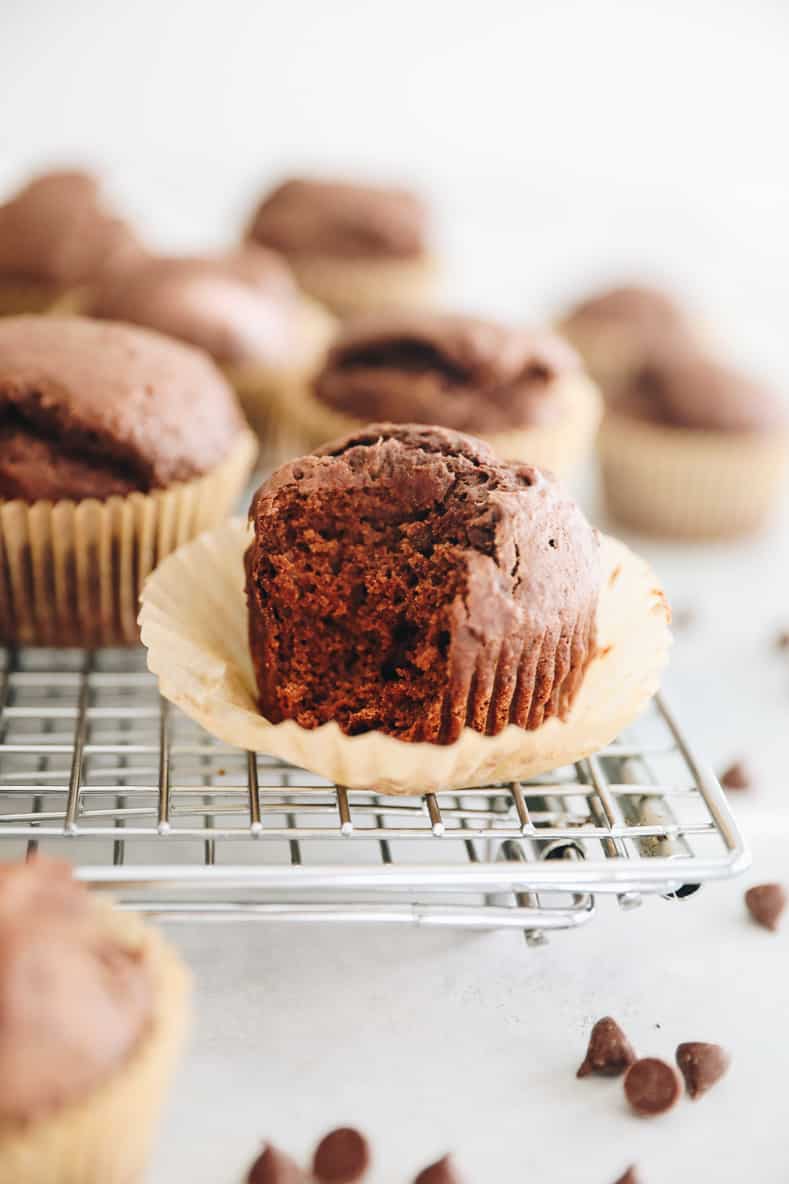 I've always loved combining foods and seeing what would happen. When I was little I would test spices on different foods to see how they would taste. I'm pretty sure I was the only 8 year old sprinkling cinnamon and nutmeg on their Cheerios. 
Chocolate + gingerbread has always made sense to me! I always love my chocolate with a little kick and 'tis the season! You're going to love these slightly sweet, flavor packed muffins. 
Here's What You Need
All-purpose flour

– I've also made these with all-purpose gluten-free flour and they work great.

Unsweetened cocoa powder

– for that chocolate flavor!

Spices

– a mixture of dried ground ginger, cinnamon, ground cloves and salt are all key for the gingerbread flavor. 

Baking powder

and

baking soda

– helps the muffins rise.

Egg

– 1 large egg or you can replace with a flax egg if vegan

Applesauce

– reduces some of the oil needed while still keeping the muffins moist. 

Coconut oil

– helps keep these muffins fluffy and tender!

Maple syrup 

– a little natural sweetness to balance all of the flavors. 

Blackstrap molasses

– key for gingerbread flavor!

Non-dairy milk

– I used unsweetened almond milk but any dairy-free milk works!
How to Make Chocolate Gingerbread Muffins
STEP 1: In a large mixing bowl, combine the flour, cocoa powder, ginger, cinnamon, cloves, baking powder and salt.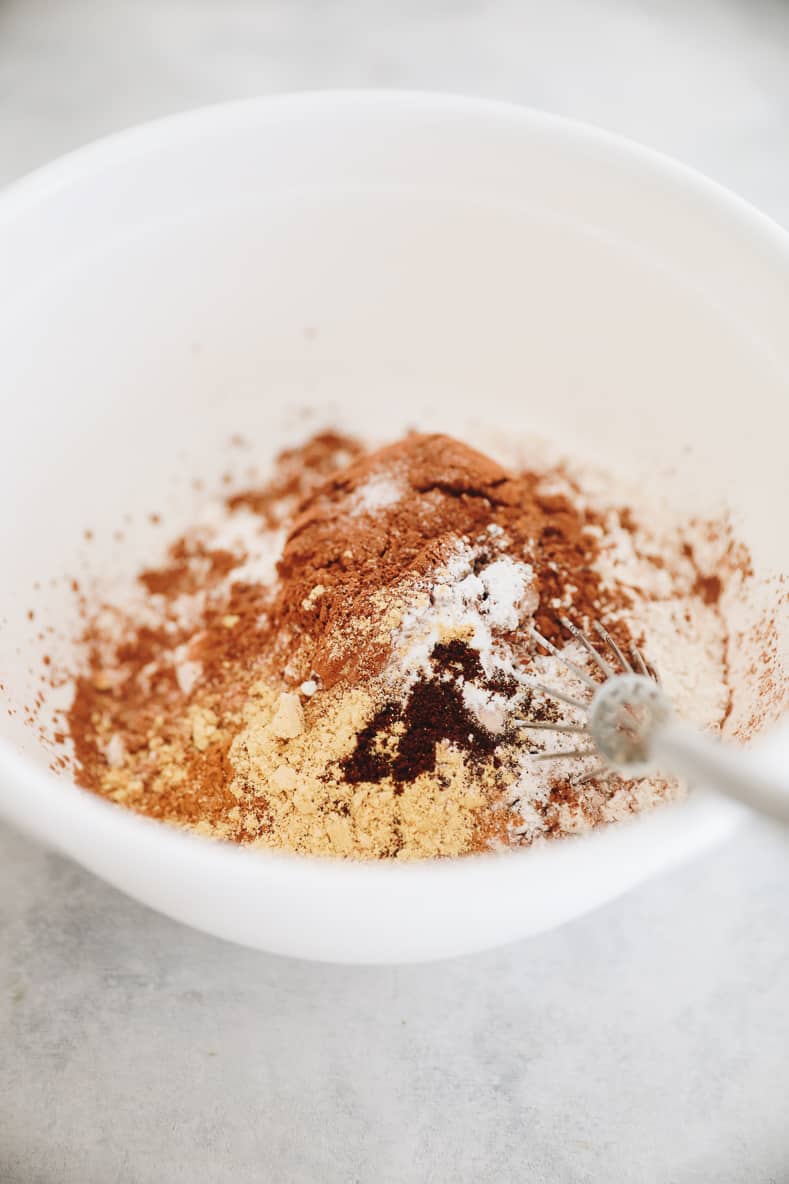 STEP 2: Warm up the applesauce in the microwave for 30 seconds or on the stovetop until warm but not hot! Stir in the baking soda. The mixture should foam. I know this seems strange but it helps the muffins stay moist.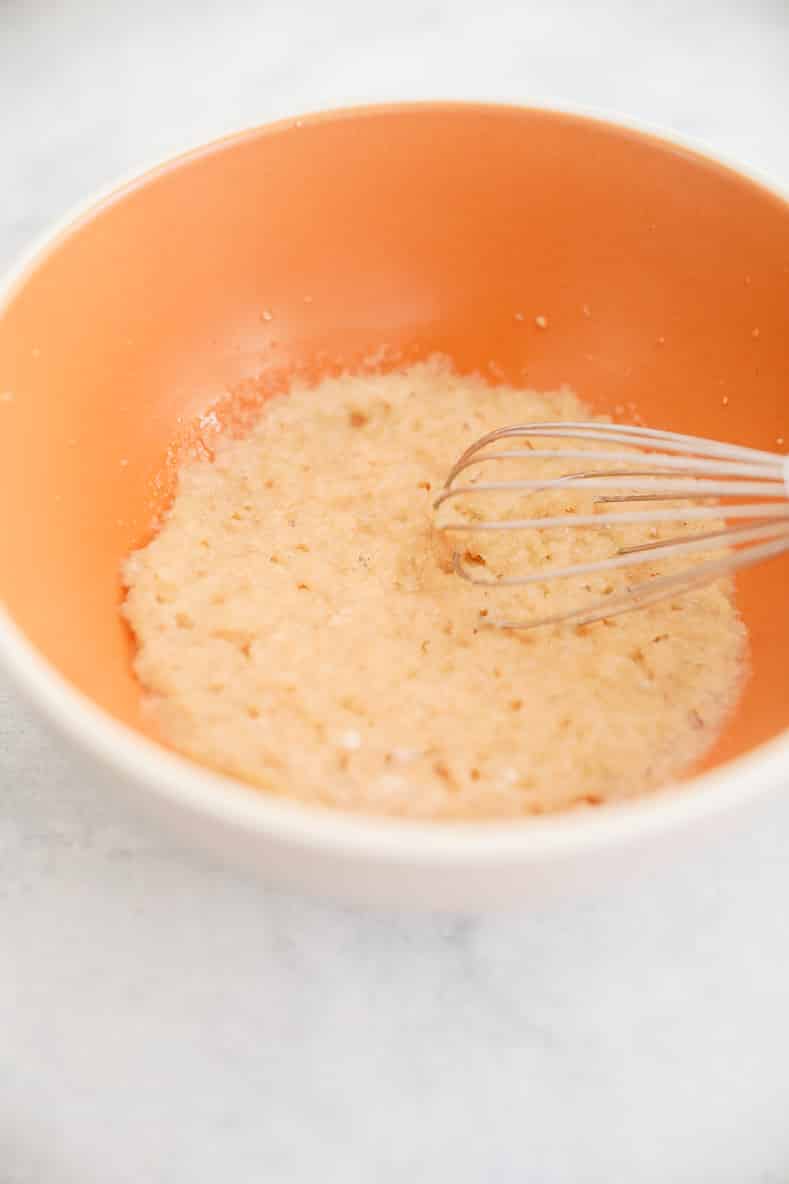 STEP 3: In a separate bowl, combine the applesauce mixture, coconut oil, maple syrup, molasses, dairy-free milk and the egg. Stir until well combined.  Slowly add the dry ingredients to the wet ingredients. The mixture should be thick but if it's too thick, you can add a splash of milk.  Stir in chocolate chips, if using.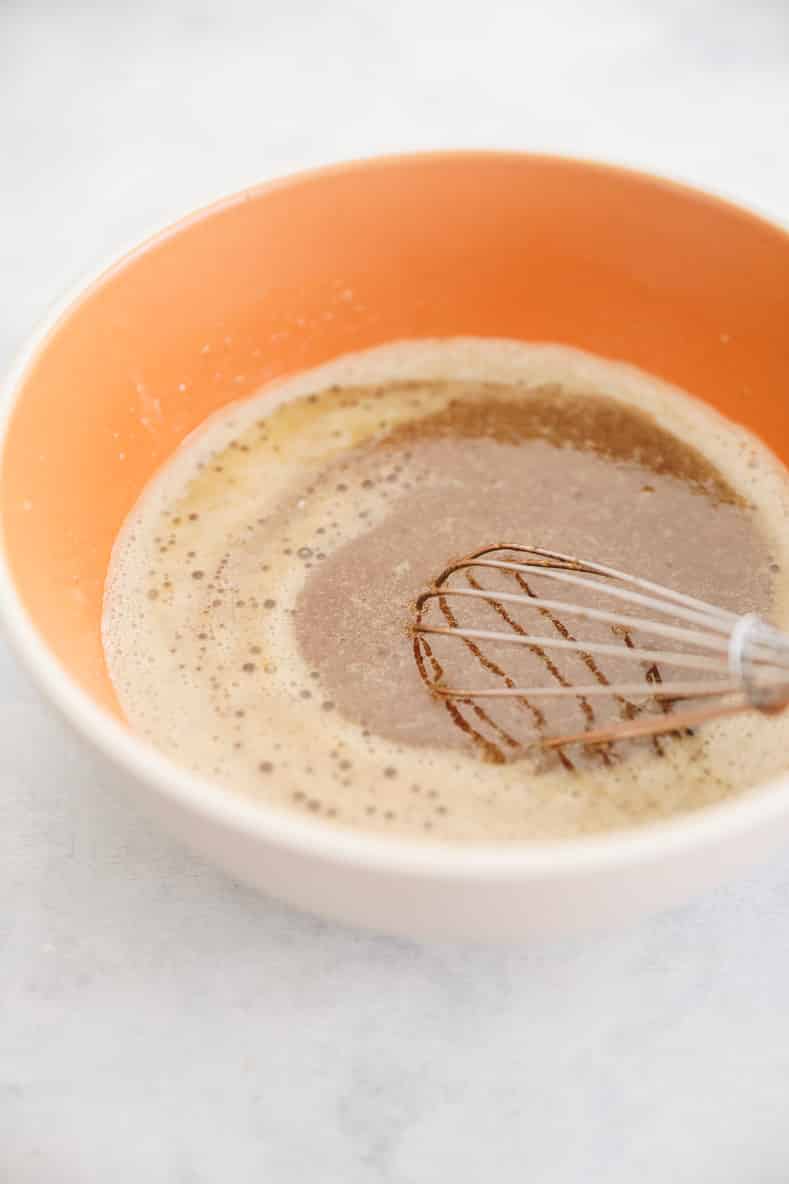 STEP 5: Scoop the batter into a muffin tin prepped with coconut oil or lined with muffin liners. Fill about ¾ of the way full. Bake at 350ºF for 15-18 minutes. The muffins are ready when a toothpick inserted in the center comes out clean. Let cool slightly before enjoying!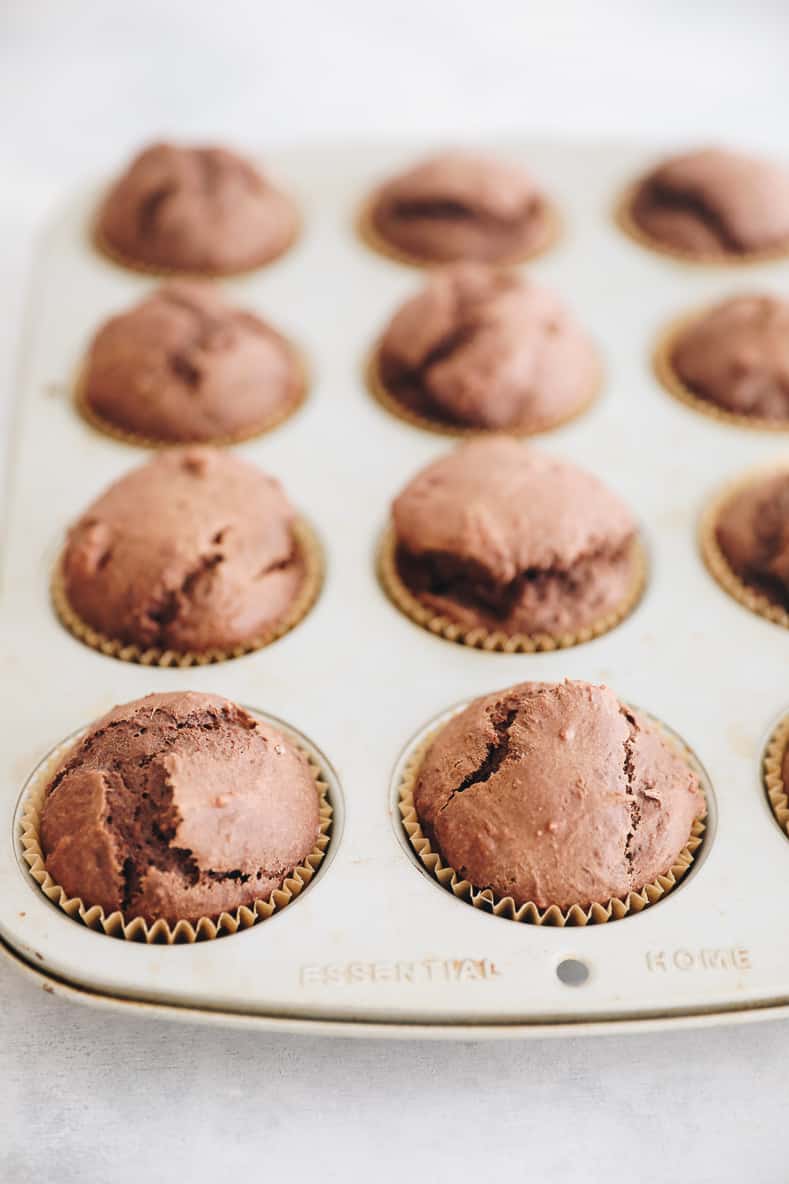 Make Them Vegan
These chocolate gingerbread muffins can easily be made vegan! All you need to do is replace the egg with a flax egg by combining 1 tbsp ground flax with 3 tbsp warm water and letting that sit for 5 minutes. In addition, the applesauce-baking soda combo helps bind these muffins so the combo of these two will ensure your muffins stay together.
Make Them Gluten-free
You can easily replace gluten-free all-purpose flour in place of regular white flour in these chocolate gingerbread muffins. I personally try and stay away from gluten-free flours that contain chickpea flour in the blend as I find it is too earthy tasting but you can use whatever you have on hand.
How to Store Leftovers 
Allow the muffins to cool completely before storing in an airtight container. They will last up to 3 days on the counter or longer in the refrigerator. You can also wrap individually in tinfoil and place in a ziploc bag to freeze up to 6 months.
A Step-By-Step Blueprint For Making Money Online, That Is 100% Dummy Proof!
GET EASY FREE TRAFFIC + AFFILIATE OFFER = COMMI$$IONS
Get The Simple Traffic Blueprint Now!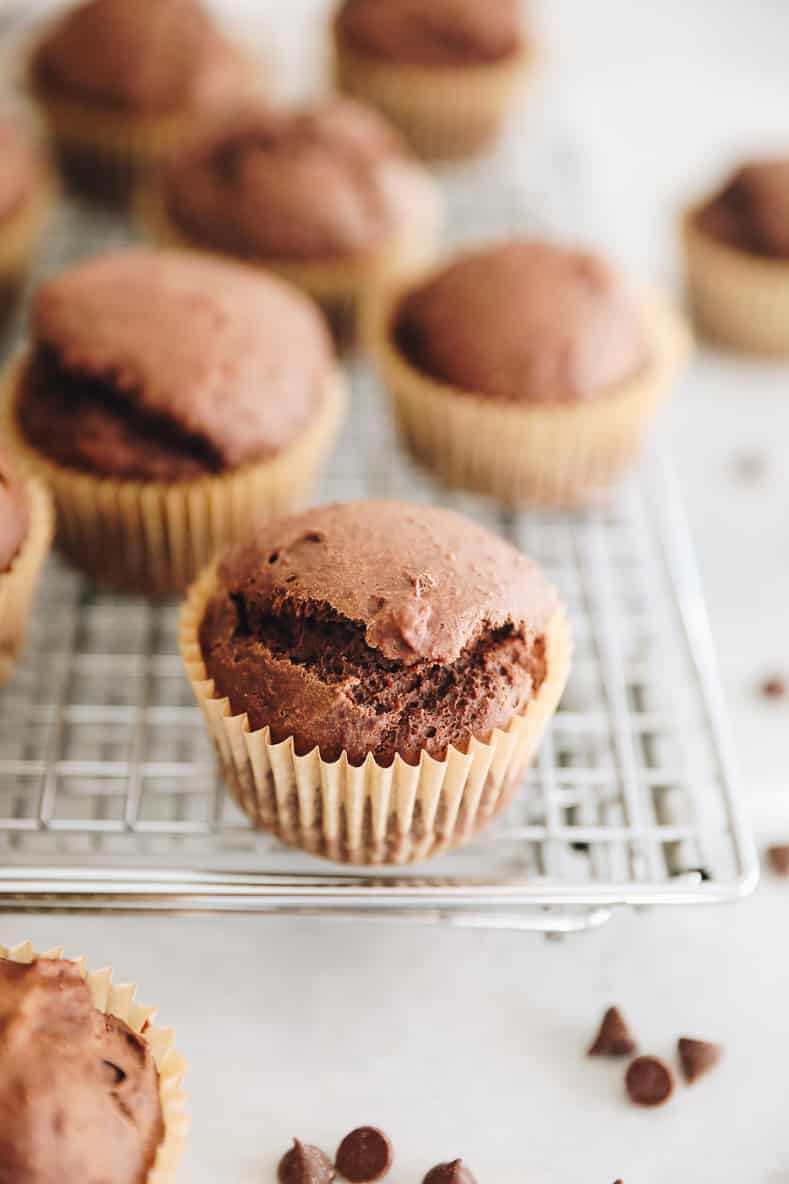 Chocolate Gingerbread Muffins