Life
My Go-To Healing Bowl
https://www.thehealthymaven.com/my-go-to-healing-bowl/
Feeling a little under the weather or in need of a good immune-boost for cold and flu season? This is my go-to healing bowl full of healthy ingredients like mushrooms, miso, chicken broth and veggies.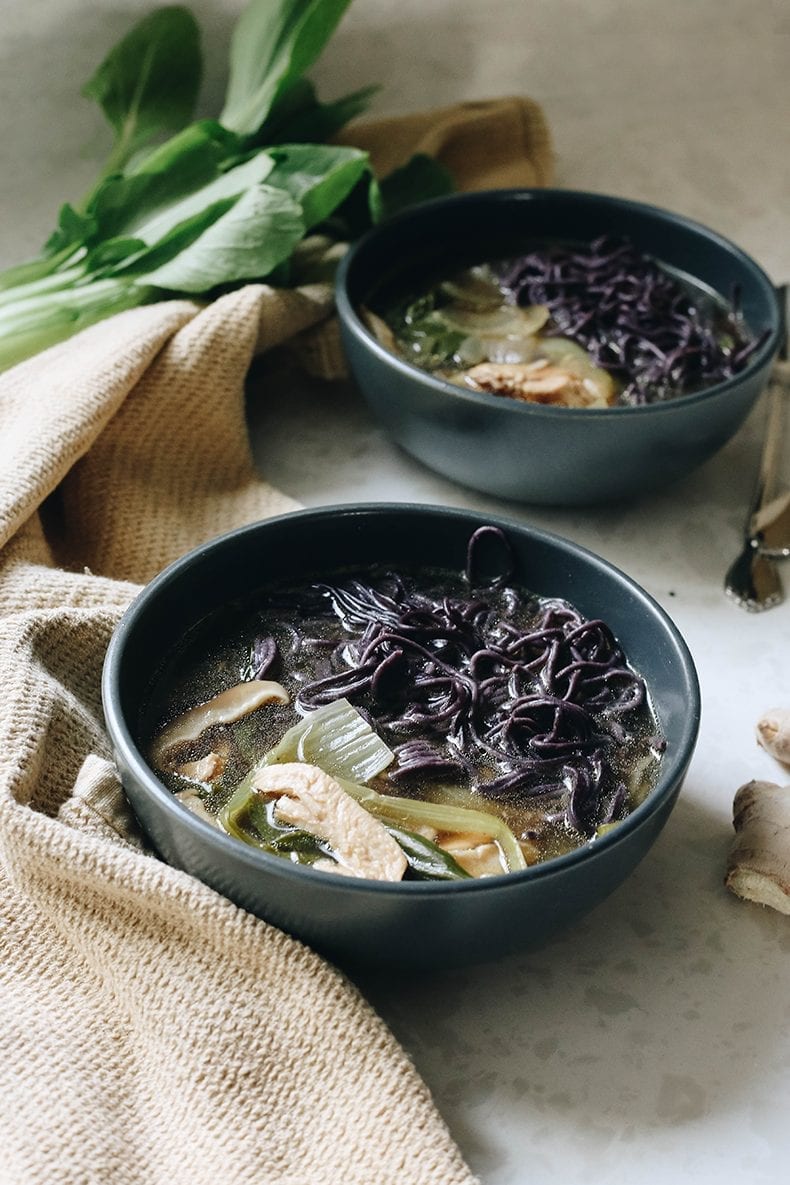 I feel like the title of this recipe needs a little bit of explaining. While it certainly is my go-to healing bowl, I also admittedly eat this when I'm not feeling sick. Why? Because it reminds me of one of my favorite places in the world: Mendocino.
Our absolute favorite restaurant in Mendocino is Mendocino Cafe. I order the healing bowl every time we visit Mendocino Cafe and since my first time trying it I knew it was something I had to recreate at home.
Here's What You Need:
vegetables – yellow onion, garlic cloves, shiitake mushrooms, and baby bok choy.
rice noodles – I like Lotus Organic Brown Rice Noodles.
chicken breast – I use boneless, skinless chicken breasts.
fresh ginger
chicken or vegetable stock – I recommend using low sodium stock so you can control how salty the end result is.
red miso paste – has a deep umami flavor. If needed, you can substitute for yellow miso but I highly recommend using red miso.
rice wine vinegar
sesame oil
olive oil
salt and pepper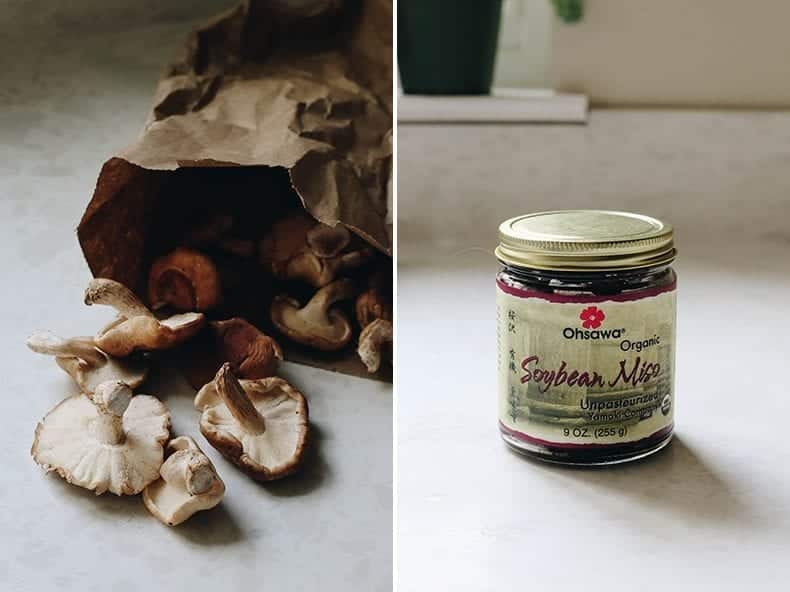 Healing Ingredients
This soup isn't called a healing bowl for nothing… it's packed with powerhouse ingredients that do indeed heal and protect.
Mushrooms – Shiitake mushrooms are known to support immune function and are high in vitamins B and D.
Miso – Miso is fermented soybean paste and its a powerful probiotic supporting gut health. Make sure you buy a quality organic miso paste.
Ginger – Ginger is anti-inflammatory and is an antioxidant. It can help with nausea, indigestion and menstrual cramps but has also been shown to improve blood sugar and cholesterol levels.
Garlic – Garlic is rich in important vitamins and minerals like vitamin C and manganese. It can help reduce the severity of your sickness and is loaded with antioxidants.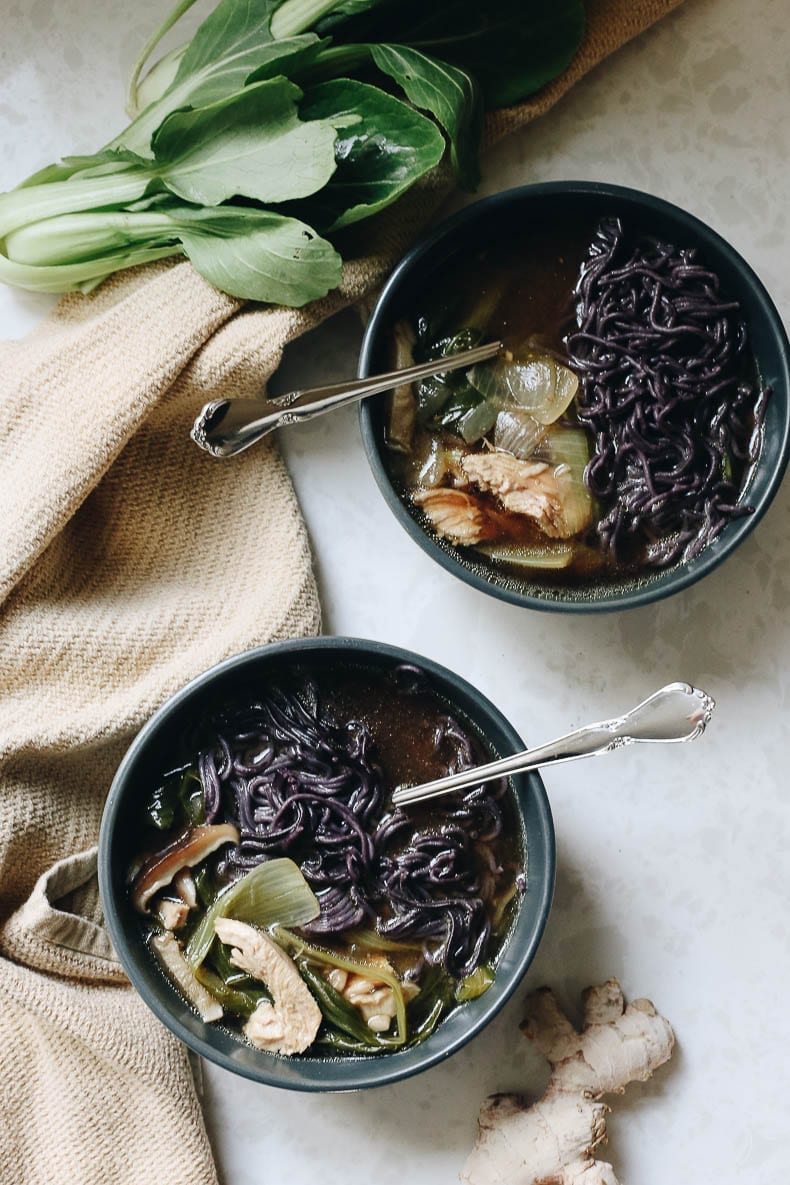 How to Make a Healing Bowl
STEP 1: Start by sautéing the onions, garlic and ginger in a large pot with olive oil over medium heat.
STEP 2: Add the mushrooms and stock and bring to a boil before lowering to a simmer. Add the chicken breast and simmer for 10 minutes.
STEP 3: After the chicken has cooked for 10 minutes, use tongs to remove the chicken and set aside to cool. Let the soup simmer for an additional 50 minutes. Don't skip this step! This is really what infuses that umami flavor and helps you get the benefits from the mushrooms.
STEP 4: Once the chicken is cool enough to cut, slice into small pieces and add back into the broth. Add int he bok choy and continue cooking until the 50 minute timer is up.
A Step-By-Step Blueprint For Making Money Online, That Is 100% Dummy Proof!
GET EASY FREE TRAFFIC + AFFILIATE OFFER = COMMI$$IONS
Get The Simple Traffic Blueprint Now!
STEP 5: In a small bowl, combine the miso paste, rice wine vinegar, sesame oil and 1 tablespoon of the soup broth. Stir until well combined.
STEP 6: Add the miso slurry into the soup and stir until combined. Add salt and pepper to taste and cook for another 5 minutes.
STEP 7: Cook the noodles according to package instructions. Add noodles to serving bowls and top with the healing broth and veggies.
Storing Leftover Soup
Store noodles separately from the broth in airtight containers. Leftovers will last up to one week when stored in the refrigerator. When you're ready to enjoy, combine the noodles and broth and heat on the stovetop or in the microwave.
My Go-To Healing Bowl